In a day where there are dozens, hundreds or even thousands of companies offering the same or similar product or service; the challenge to retain customer loyalty and increase the intent (of customers) to recommend is becoming greater. Today I'd like to expand on why I think Customer Recognition is Important to Airlines.
In terms of aviation, passenger-focused airlines have a variety of tools at their disposal in order to ensure their customers feel recognised; whether it is from a simple marketing function to include their name in an e-mail, to sending personalised offers and recommendations on how to spend their loyalty points based on their lifestyle habits or indications they selected during registration.
But more could be done, both online and in-person.
Digital Recognition
For example, there are a couple of airlines (thus far) whom have actually taken customer recognition to the next level. You can see the example below and on the header image; where members of the airline's frequent traveller programme are given the option for their name to be displayed on the Inflight Entertainment System at their seat when they fly.
If enabled automatically, this feature provides a small "surprise and delight" element to a customer's boarding experience helps to ensure they feel recognised. I've often had passengers around me say "Now that is cool!". Other examples could include a push notification on the app saying "Welcome back to the lounge Benedict. Tap here to place your drinks order".
I know first-hand that during boarding it isn't always possible to welcome each customer by their last name at the aircraft door; especially if there may be 480+ other passengers behind them. Recognising frequent flyers is one thing (and some will complain if you don't do this), but providing a level of individualised to someone who is new to the airline can have a considerable impact on their intent to recommend and potentially influence whether they will continue to fly with "the airline", or go somewhere else.
Onboard
In the days where the manifest (PIL) may only be visible digitally on a single device, not all flight attendants may have the opportunity to view any remarks relating to passengers who are seated within their specific area of the aircraft. Due to advances in inflight-technology, airlines can now opt for aircraft to be equipped with "crew terminals" within the galley areas; making customer information readily available. Additionally this can pave the way for more airlines to offer an "order on demand" functionality. Quite a number of airlines are now opting to equip all their cabin crew with company issued-tablets to help improve the in-flight experience and communicate with teams on the ground.
There is also the simple things such as one of the cabin crew members passing through introducing themselves and being able to say "Welcome Back Benedict. Thanks for flying with us again" or "I can see that you have ordered the (fruit plate) special meal today Mr…., what drink would you like to accompany this?". Personal recognition conversations can occur at any point of the customer journey, but are so important.
Recognising information on Boarding Passes
I've often noticed check-in staff circle (highlight) the frequent traveller (FQTV) indicator or class of travel on a boarding pass to ensure it is recognised at key touchpoints throughout the customer journey. This is because their FQTV benefits or travel class may entitle them to priority security screening, lounge access and other benefits – or simply put, so they are recognised and feel valued.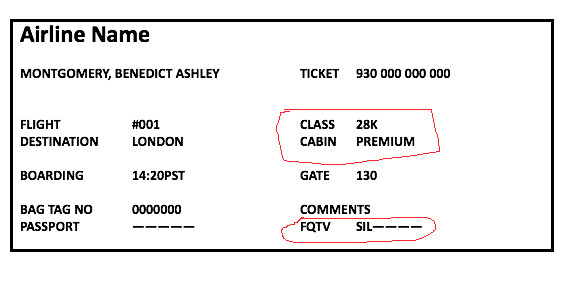 Perhaps it is time for airlines (or the major alliances) to create a universal boarding pass, so it's easier to distinguish between the Bronze, Silver and Golds; or even the cabin in which they are travelling; making it easier for them to be recognised.
Get rid of the robotic responses
The same applies when responding to customer enquiries via e-mail or when speaking on the telephone. A good tip (for airlines to take note of) is to ensure staff are encouraged to check bookings (when dealing with them) to see if there are any remarks, special service requests or other relevant information which they could then use to ensure the interaction is personalised. One thing I and many others cannot stand is the "copy and pasted" robotic response to queries. That's what FAQs are for, and if I had taken the time to send you an e-mail or complete the long-winded contact process on the website; I'd expect a little bit more. That too can impact whether I would take my business elsewhere. I have too.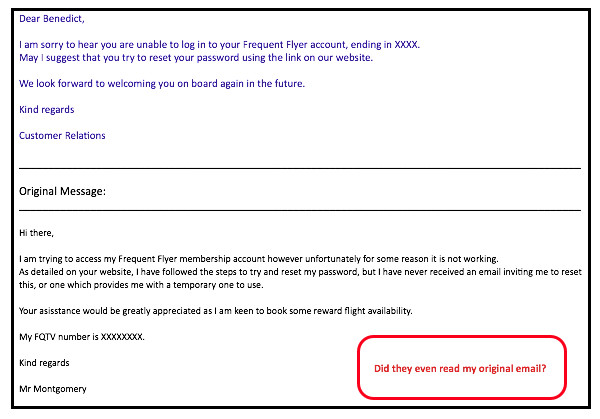 Disruption
In times of disruption, customer recognition is incredibly important in ensuring everyone is looked after. If you were a high-value business class customer and were directed to the back of the standard queue where 300 people are waiting to be rebooked for their flight, would you be happy? I'm not saying that they should be given heaven and earth because they have paid more for their ticket; but these customers would expect a certain level of service.
I know I'm harking back to something mentioned earlier, but it is imperative for all customers to be treated as an individual and not just a batch of numbers being processed.
NPS
The Net Promoter Score (NPS) is a tool used by many organisations and it is very effective; however sometimes you need to simply look outside the box at what businesses of a similar nature to yours are doing in order to see whether their techniques will work for you. Some may, some may not. But in terms of customer recognition; it's a battle for additional revenue, loyalty and market share.
I've only begun to list a couple of methods in how airlines recognise their customers and the thing is, it works for them. Whether you are a small airline operating in the most isolated parts of the world or one with more than 40,000 employees – without recognising customers properly; you'll end up with nothing.
This post has been created based on my recent flight experiences with a variety of European and International airlines.