€2 Billion Expansion for Disneyland Paris Announced!
Earlier this week Robert Iger; Chairman and CEO of The Walt Disney Company announced plans for an incredibly exciting €2bn multi-year expansion for Disneyland Paris. The announcement was made at the prestigious Palais de l'Elysée in Paris alongside French President Emmanuel Macron.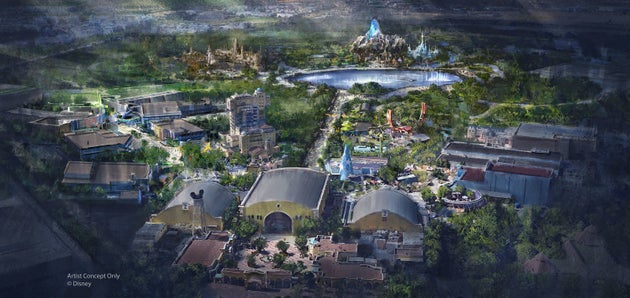 What was announced?
Walt Disney Studios Park will see the addition of three new areas based on "MARVEL", "STAR WARS" and "FROZEN"; which is set to include new attractions and live entertainment experiences. So you know what this potentially means? Disneyland Paris will be getting it's own version of the highly-anticipated Star Wars: Galaxy's Edge which is coming to Disneyland Park (California) and Disney's Hollywood Studios (Florida) in 2019. Cue the fanfare. But let's not forget about Frozen and Marvel too!
The expansion will take place across a multi-year development with the first phase expected to be completed in 2021. According to the media release (and comments around the online community), the creative vision for the expansion will include a new lake; which will be a focal point for entertainment experiences. Translation: Could this mean Walt Disney Studios will receive it's own nighttime spectacular such as Fantasmic!, World of Color, or something completely different? Who knows!
Why this is important
This is without a doubt one of the biggest and most ambitious transformation projects in the history of Disneyland Paris; and re-affirms The Walt Disney Company's commitment to the European Disney Resort; which is also a leading tourist destination within Europe.
Since 1992 Disneyland Paris (or Euro Disney as it was known then) has seen it's fair share of ups and downs; but I am so happy about the investment. Over the past few years we have witnessed a real turning point at Disneyland Paris. From the Experience Enhancement Plan (EEP) which saw major refurbishments of popular attractions such as Big Thunder Mountain Railroad and Pirates of the Caribbean; to the upgrade of Disney's Newport Bay Club to a four-star property.
I must also shout about Disneyland Paris' 25th Anniversary Celebration; which has been nothing short of spectacular. Over the next few years we can certainly look forwards to a bigger, brighter and even more magical place located in Marne La Vallée, France.
What else is coming?
Continuing on from the success of the refurbishment of Disney's Newport Bay Club; Disney's Hotel New York will undergo a re-imagination into Disney's Hotel New York – The Art of Marvel, which will open in 2020.
This year Phantom Manor is undergoing a major multi-month refurbishment which will see Ravenswood Manor restored to it's somewhat former ghoulish glory. What else might be in store? We will just have to wait and see!
Final Thoughts
Can 2021 hurry up already? Some of us want to start planning our trips for when the first phase opens! What do you think about the multi-billion Euro expansion for the resort? Leave your comments below.